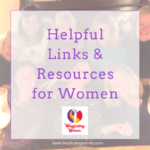 We know how empowering knowledge can be, so we've put together this list of articles and resources for women in the SW Ohio and Kentucky regions.
Articles:
The Humble Safety Pin Makes an Anti-Racism Point via BBC
Five Science-Backed Strategies to Build Resilience via The Greater Good Science Center at the University of California, Berkeley
LGBTQ Resources via CityBeat
National Websites:
VolunteerMatch – Where Volunteering Begins
How Can You Help? – Catholic Charities Southwestern Ohio
National Organization for Women
Dress for Success: Empower women to achieve economic independence by providing a network of support, professional attire and development tools to help them thrive in work and in life.
Pro Kids: Help kids within the foster system (Tied into Issue 53 on the ballot)
YWCA is on a mission to eliminate racism, empower women, stand up for social justice, help families, and strengthen communities.
Urban League: The mission of the Greater Cincinnati Urban League is to "transform generations by promoting personal empowerment and economic self-sufficiency".
Boys Hope Girls Hope: a network of 15 US and three Latin American sites that prepare young people to thrive in college, career, and life.
Lighthouse Youth Services: A nationally recognized innovator in services for families in crisis, foster care and adoption, mothers and babies, homeless youth and young adults, delinquent youth, and youth learning to become self-sufficient.
Welcome House: Working to end homelessness.
Women Helping Women: empowers survivors of sexual assault, domestic violence and stalking by providing advocacy, support and options for safety and educates the community to create social change.
Brighton Center: wraps a community of support around individuals and families by tackling the issues that prevent people from becoming self-sufficient, removing the barriers they face, and creating hope so that goals can be achieved and dreams realized.
American Civil Liberties Union (ACLU)